QM March Madness: Blue Chicago Skies and a Bright Quantum Future
March 23 | 2022 | 06 min
There was a massive QM crew numbering more than 20 at the 2022 APS March Meeting. It's been a long time since any of us got to attend an in-person event so we weren't going to miss this one. The conference took place in the sprawling McCormick Place convention center in Chicago. It's a huge complex, made of several buildings connected by enclosed glass and metal bridges which enable visitors to never have to endure the sometimes harsh Chicago late-winter climate. As we were leaving O'Hare airport we could see glimpses of how bad it can be, with some cars still sporting long icicles from a frosty previous night. The week of the 13th of March 2022 however was a particularly nice one with clear blue skies that made Michigan lake look spectacular and temperatures rising as high as 16 Celsius. It was warm enough for going out in a swag t-shirt.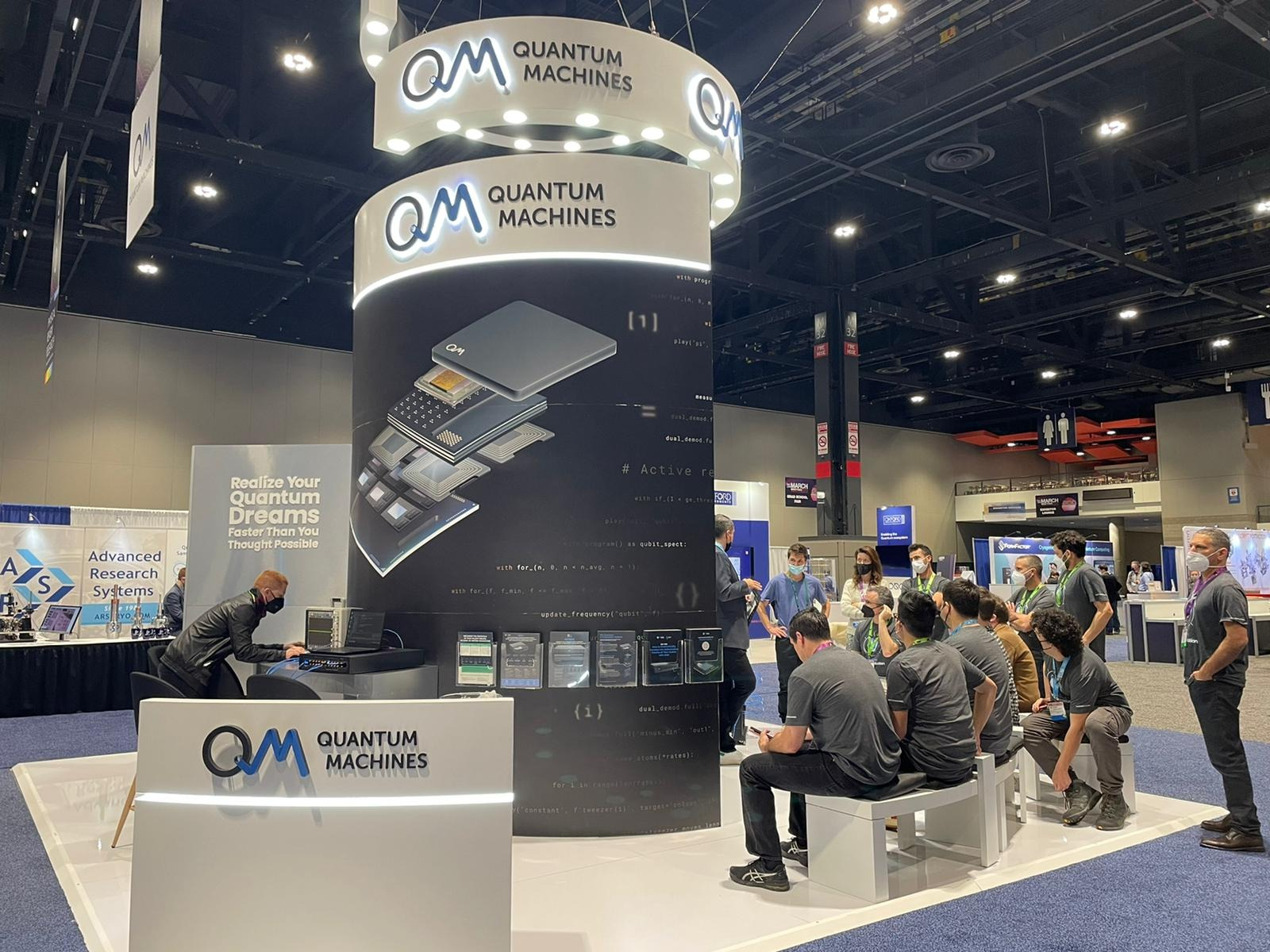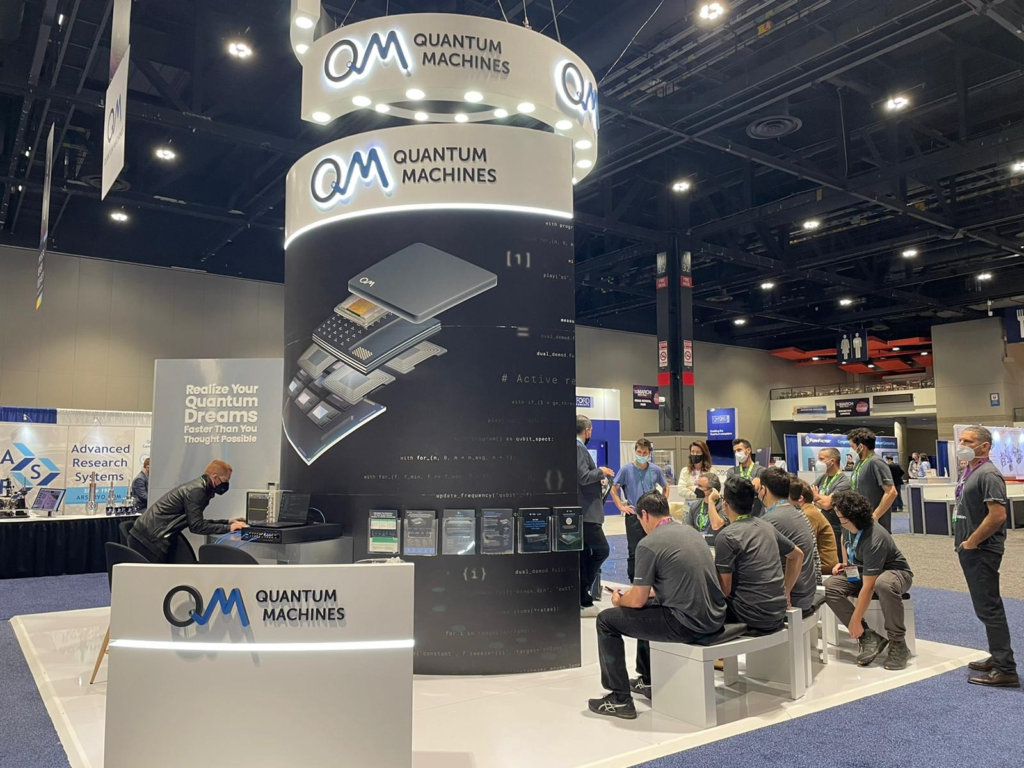 Quantum computing is everywhere
Inside the conference center, about 7000 physicists donning N95 face masks gathered to hear about all things physics. From condensed matter, through bio-physics to theoretical high-energy.  However, if all you saw was the industry exhibition floor, you'd very plausibly assume the only topic on the agenda was Quantum Computation. And there we were, on this exhibition floor, in our bright booth inscribed in large friendly letters: QM. 
The week was truly exciting. Trying to squeeze in delivering our own talks, listening to the state of the art from experts from around the world, and finally meeting our wonderful customers while also spreading the QM word to curious conference goers was indeed a tall order. Daytime Chicago sightseeing had to wait for some other time. 
It was great though. QM had a packed academic calendar with fantastic talks on innovations coming from QM's experts. We gave talks on topics crossing the quantum stack. Naming a random selection, there was Dor Israeli's talk on quantum compilation, Ramon Szmuk's talk on control and arrangement of 2D cold atom lattices, and Lior Ella's talk on practical implementations of Quantum Error Correction. There were many more.  
Showing off our full-stack quantum control systems
Just telling others about what you did is not enough though. It's much better to show it, and that we did. The centerpiece of the QM booth was the equipment rack, sporting 9 OPX+ controllers, synchronized by the OPT clock distribution module so that they seamlessly work in unison. 
Sharing the space, in a world-first public display, was our brand new up/down conversion module: Octave. This powerhouse 19'' equipment rack able to control state-of-the-art multi-qubit workloads was plugged in, hooked up, and delivering fascinating demonstrations on the booth's large screen TV non-stop throughout the week. 
We demonstrated real-time feedback with some tricks where the OPX+ measures pulses generated by the OPX+ itself. Would have been better to have qubits I suppose, but that leaves some room for improvement for next year (Vegas here we come!). We also showed how easy it is to do things like cold atom rearrangement with the flexible chirping capabilities built into QUA and the mind-bending awesomeness of true parametric pulse generation. It was darn cool. 
Dripping in quantum swag is a whole mood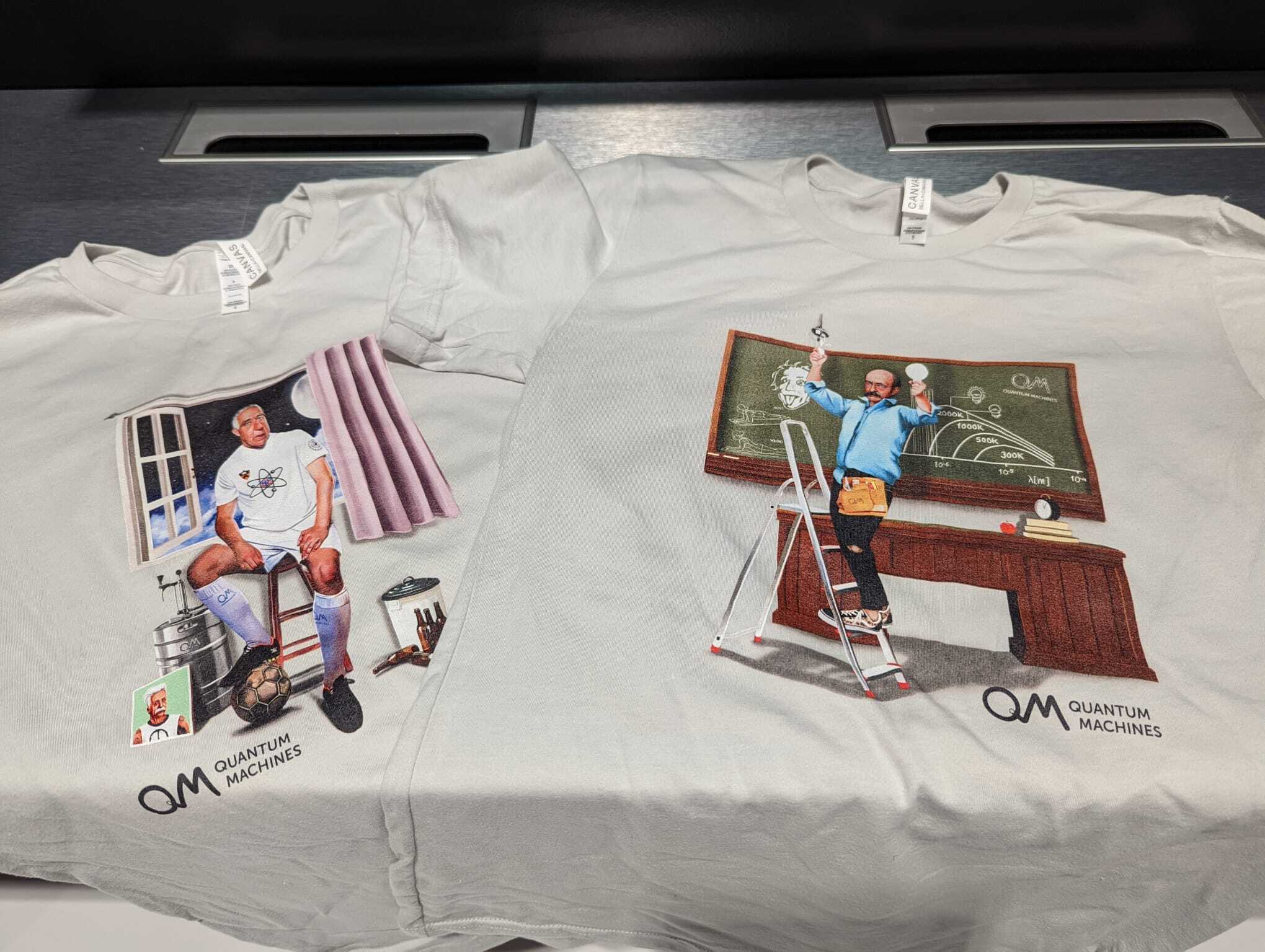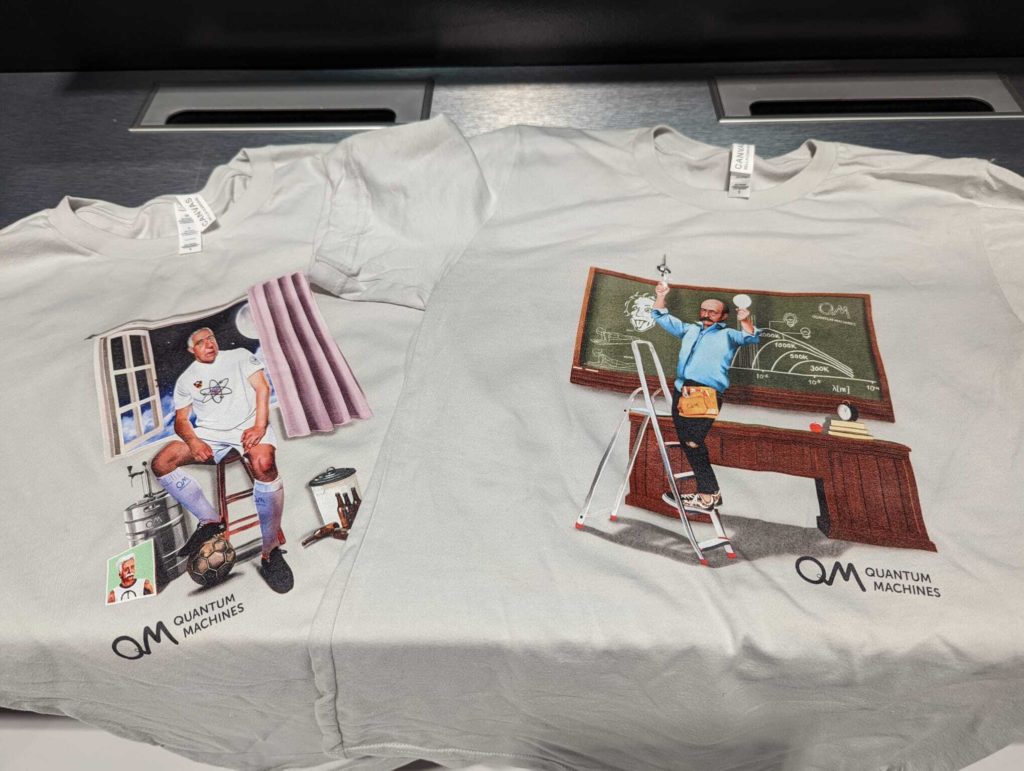 No report on the shenanigans of the APS March Meeting can be complete without a discussion of some delicious swag (More like Merch Meeting, am I right ladies?). Well, there were some kickass pieces of swag this year.
I was able to put my sticky hands on an absolute premium YETI bottle embossed with the logo of Maybel, the sexy new, fresh out of stealth, dill-fridge start-up hailing from Colorado. In my loot were also: IBM Qiskit stickers, notebooks and pens, an APS scarf, and other bits and bobs. And where was the QM offering in all this? Well, let me tell you. It was… legendary. 
We had commissioned the massively talented Amit Shimoni, famous for his HIPSTORY line of contemporary takes on iconic figures from history to do his thing on some of the fathers of Quantum Mechanics. 
A wave surfing Louis De Broglie? Check. Niels Bohr drinking a post-soccer beer and contemplating the objective reality of the unobserved moon? We've got him. Dick Feynman on his bongos? Wouldn't be a party without him. Schrödinger in his iconic fur coat, surrounded by cats? Well, it is Quantum Mechanics, isn't it? And last but not least, Max Planck changing a light bulb. Turns out it takes only one. 
Demand for T-shirts, posters, and stickers of these fashionable phenoms was at 2021 Bitcoin levels. Oh and we also had some of our quantum socks. People can't get enough of 'em! I can't help but pause and reflect on the fact we only had fathers of QM on display. We guarantee next year's selection will include some illustrious mothers as well.  Feel free to drop us a line if you have some good names to suggest, or tell us on Twitter (@QuantumQM)!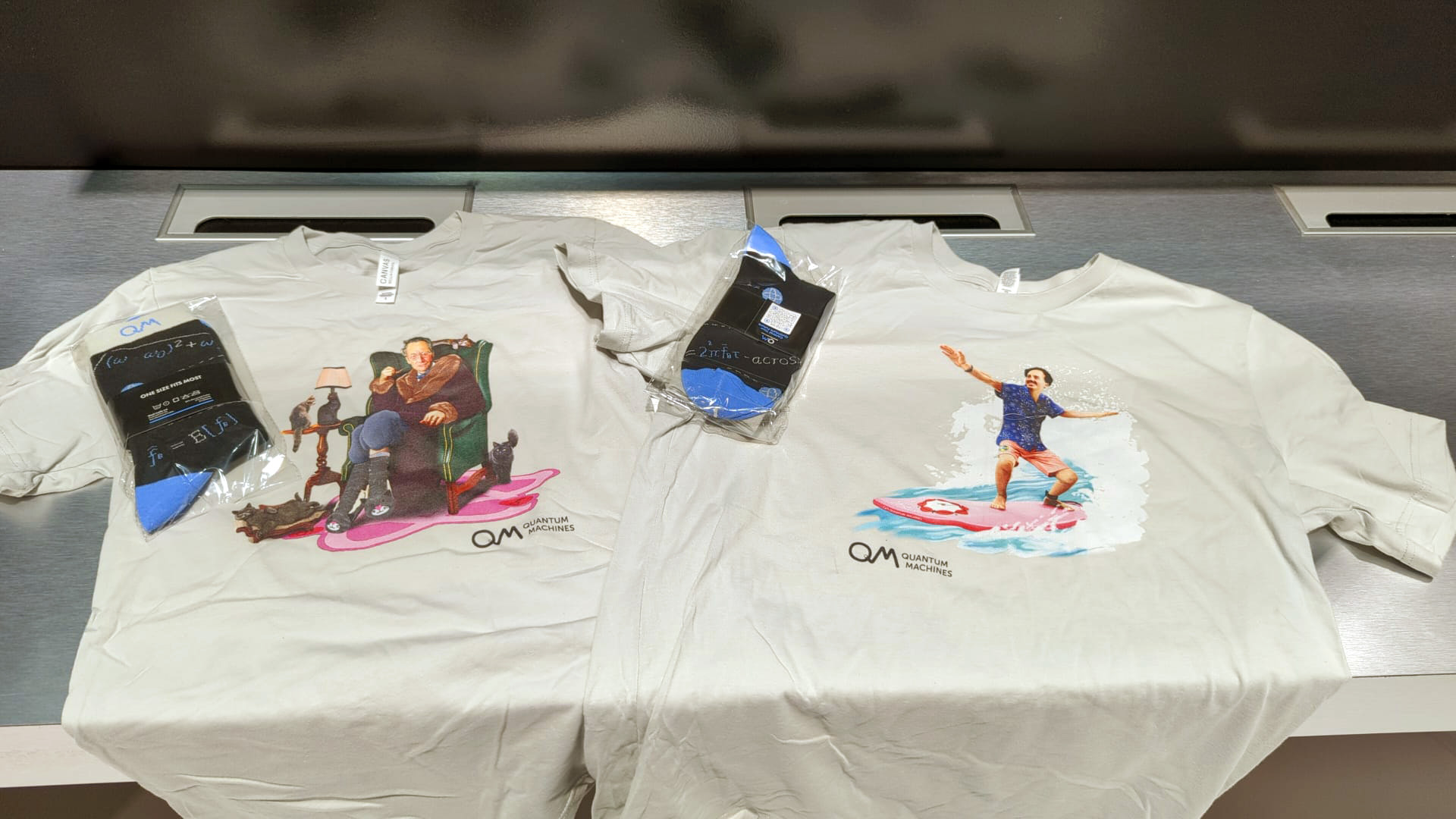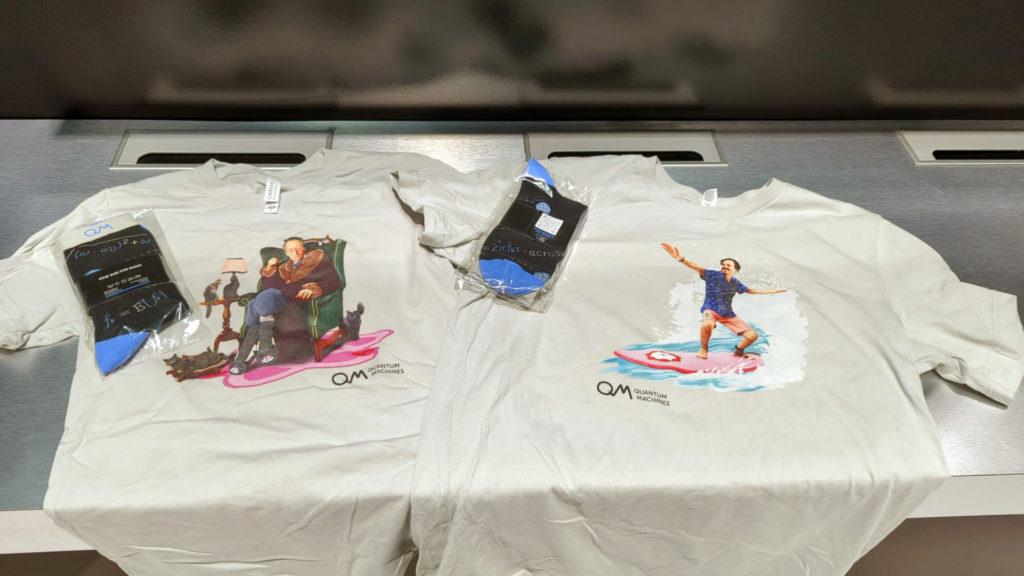 Leaving Zoom-fatigue behind
It was a great conference, and above all, it was really just nice to meet up with customers in this strange new pandemic world. We work very closely with QM customers, often on a daily basis. It can really be a shoulder-to-shoulder trench-warfare kind of feel. Except in reality with at least some of them, there was no way to meet outside the confines of a Zoom window (looking at you people of Oz). Meeting people in person, for a chat about physics and a refreshing beer was surely the cherry on top of the deep-dish pizza. What was it all about, if not the friends we made along the way? 
I can't wait for the March Meeting 2023. But there are other staples of the physics conference world calendar and QM will be in many of them. Hope to see you at DAMOP, Quantum Matter 2022, IEEE Quantum Week, or wherever else you tell the world about your physics.